Accidental Damage to Phones More Likely Based on Lifestyle Choices
SAN FRANCISCO, CA – December 13, 2012 – SquareTrade®, the top-rated protection plan trusted by millions of happy customers, released new research today showing that iPhone users with certain lifestyles and habits suffer damage to their iPhones more frequently. Americans who have sex more than once a week, have tattoos, ride motorcycles and trade stocks, for example, have more commonly had accidents with their iPhones, according to the new research.
"Who knew that people who have sex regularly also have iPhone accidents more frequently? We were also surprised to see that stock traders and tattoo aficionados had something in common," commented Ty Shay, SquareTrade's Chief Marketing Officer. "As our devices become increasingly central to our lives, they're at the mercy of our lifestyles and sometimes risky behavior. This research gives us a glimpse into what trends we may see in the future."
SquareTrade's 2012 Smartphone Accident Survey revealed that the following groups of people are more likely to have had an accident with their iPhone:
People who trade stocks frequently – 40% more likely
People with tattoos – 25% more likely
Motorcycle owners – 25% more likely
People who have sex more than once a week – 15% more likely
Big households – 15% more likely
Pet owners – 7% more likely
SquareTrade works with leading online and in-store retailers to offer uniquely customer-friendly technology protection plans to protect thousands of consumer electronics and appliances including smartphones, tablets, laptops, televisions, video game consoles and digital cameras. SquareTrade consistently receives high rankings for superior customer service and its 5-day service guarantee.
The survey responses for SquareTrade's 2012 Smartphone Accident Survey were collected using the world's largest panel provider, Survey Sampling International. Demographic quotas were used to collect a representative sample of smartphone users.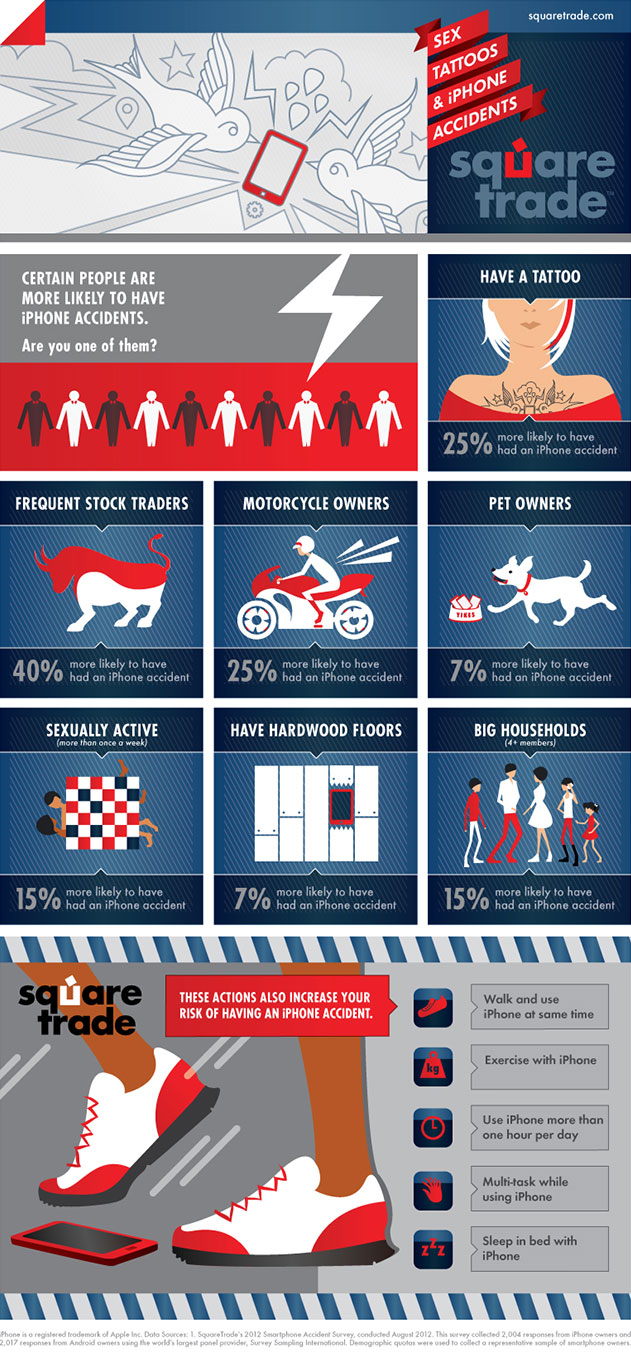 About SquareTrade
SquareTrade is the top-rated protection plan trusted by millions of happy customers for its fast and exceptional service. SquareTrade protects mobile devices, laptops and tablets, and other consumer electronics and appliances from malfunctions, accidental damage and life's frequent mishaps. Unlike old-fashioned warranties, SquareTrade is designed for today's consumer and uses innovative technology to deliver a zero hassle claims process. SquareTrade has more than 190,000 fans on Facebook, consistently wins industry awards and receives thousands of 5-star reviews for its legendary customer service. Top retailers around the world offer SquareTrade, achieving a 200% increase in sales on average and happier customers. SquareTrade's rapid transformation of the warranty industry attracted one of the largest private capital raises in 2012, with a $238 million round led by Bain Capital and Bain Capital Ventures. Headquartered in San Francisco and London, SquareTrade is privately held. For more information, go to www.squaretrade.com.
SquareTrade is a registered trademark of SquareTrade, Inc.  iPhone is a trademark of Apple, Inc.  Other company and product names may be trademarks of their respective owners.