15% of iPhone Owners Currently Using Phone with a Cracked Screen
SAN FRANCISCO, CA – September 18, 2014
SquareTrade®, the top-rated protection plan trusted by millions of happy customers, today released the results of a new study showing that damaged iPhones have cost Americans $10.7 billion since their introduction in 2007. The total amount Americans have spent on repair and replacement of their smartphones in the last seven years – including iPhones – is over $23.5B, the study found. SquareTrade will issue a Breakability ScoreTM for the iPhone® 6 and iPhone 6 Plus on Monday, September 22.
Surveying more than 2,400 smartphone users, the sum combines the cost of repairs, replacements and insurance deductibles for cracked, dropped, submerged, and water-damaged devices. Regardless of the type of accident, the most common lasting damage for users is the now commonplace cracked screen. A quarter of iPhone owners have cracked a screen at some point, with 15% currently using an iPhone with a cracked screen.
"In 2012, when we conducted our first survey on iPhone damage - we were shocked by the billions spent on repair and replacement. Our new research shows that since then, things have only become worse," commented Ty Shay, CMO at SquareTrade. "When we see bigger screens combined with features like mobile payments with ApplePay, we see the potential for even more accidents: we won't be surprised to see claims coming in that mention the drive-through window at McDonald's."
Cracked screens can actually prevent iPhone owners from using certain features:
40% of iPhone owners with cracked screens couldn't read/send email or couldn't use certain letters
27% couldn't use mission critical apps like Facebook, Maps or Uber
20% couldn't take photos
20% couldn't unlock the screen
SquareTrade's research also points to brisk sales for the new, larger iPhone 6 Plus among current iPhone users, with 34% intending to upgrade. Respondents cite the larger screen, better camera and "smart home" connectivity features as compelling reasons to switch phones.
Methodology:
(1) SquareTrade's 2014 Smartphone Accident Survey, was conducted in August 2014, using Research Now. Feedback was collected from over 2,400 smartphone owners. Results were weighted by demographic variables to provide a representative sample of smartphone owners throughout the US. Market share estimates based on comScore's May 2014 US Smartphone report. (2) SquareTrade's 2014 US iPhone Survey was conducted in June 2014 using online panel provider Research Now. Feedback was collected from 1,000 iPhone owners in the US.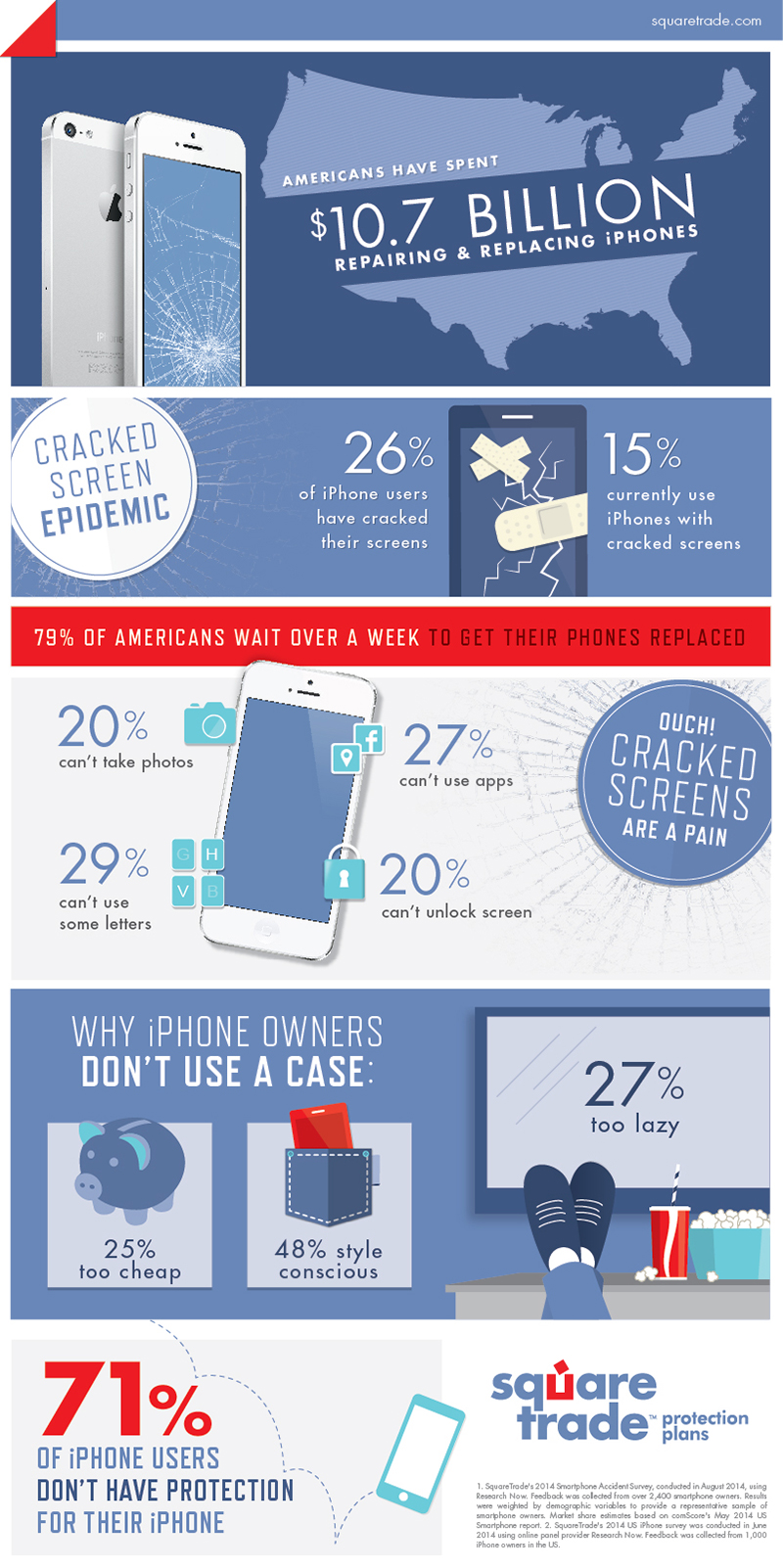 About SquareTrade
SquareTrade is the top-rated protection plan trusted by millions of happy customers for its fast and exceptional service. SquareTrade protects mobile devices, laptops and tablets, and other consumer electronics and appliances from malfunctions, accidental damage and life's frequent mishaps. Unlike old-fashioned warranties, SquareTrade is designed for today's consumer and uses innovative technology to deliver a zero hassle claims process. SquareTrade has more than 200,000 fans on Facebook, consistently wins industry awards and receives thousands of 5-star reviews for its legendary customer service. Top retailers around the world offer SquareTrade, achieving significant sales growth and happier customers. Privately held, SquareTrade's investors include Bain Capital and Bain Capital Ventures. SquareTrade is headquartered in San Francisco and London. For more information, go to www.squaretrade.com.
SquareTrade is a registered trademark of SquareTrade, Inc.