Almost 1 in 10 iPhone Users Have Dropped Phones in the Toilet
SAN FRANCICSO, CA – Tuesday, October 16, 2012 – SquareTrade®, the top consumer-rated technology protection plan, released new research today showing that 51% of iPhone® accidents happen around the home – most commonly in the kitchen. The study also revealed that "unusual" iPhone accidents are much more common than previously expected: In addition to an astonishing 9% toilet mishap statistic, the research shows that 5% of iPhone users have put an iPhone in the washing machine and 6% of users have put their device on top of their car and then driven off.
"Smartphones have become our third hand – our instinctual resource for information and entertainment," commented Ty Shay, SquareTrade's CMO. "Whether or not you're the one in ten that drops your iPhone in the toilet, you're likely taking your phone everywhere, and that habit needs protection."
While one might guess that the yard and the swimming pool are risky settings for the iPhone, SquareTrade's Device Danger Zone Survey revealed that the top five danger zones around the home are:
the kitchen (21% of accidents around the home happen here)
the living room (17%)
the bathroom (16%)
the driveway (10%)
the bedroom (8%)
SquareTrade works with leading online and in-store retailers to offer uniquely customer-friendly warranties to protect thousands of consumer electronics and appliances including smartphones, tablets, laptops, televisions, video game consoles and digital cameras. SquareTrade consistently receives high rankings for superior customer service and its 5-day service guarantee.
The survey responses for SquareTrade's 2012 Device Danger Zone Survey were collected using the world's largest panel provider, Survey Sampling International. Demographic quotas were used to collect a representative sample of smartphone users.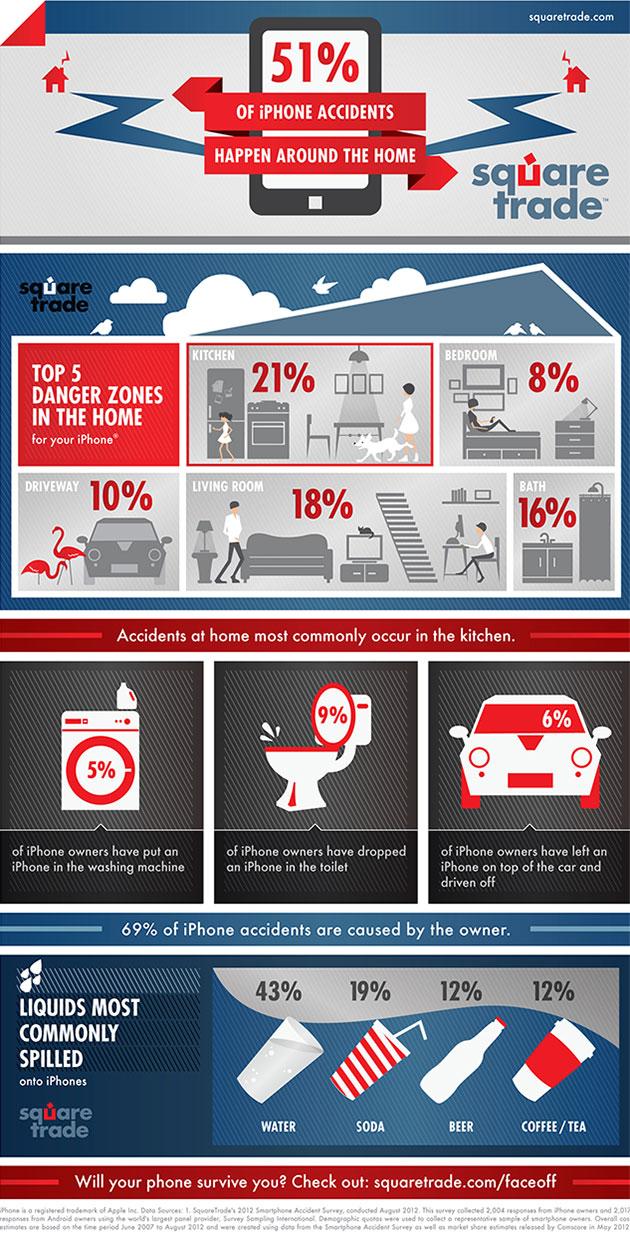 About SquareTrade
SquareTrade is the top-rated protection plan trusted by millions of happy customers for its fast and exceptional service. SquareTrade protects mobile devices, laptops and tablets, and other consumer electronics and appliances from malfunctions, accidental damage and life's frequent mishaps. Unlike old-fashioned warranties, SquareTrade is designed for today's consumer and uses innovative technology to deliver a zero hassle claims process. SquareTrade has more than 190,000 fans on Facebook, consistently wins industry awards and receives thousands of 5-star reviews for its legendary customer service. Top retailers around the world offer SquareTrade, achieving a 200% increase in sales on average and happier customers. SquareTrade's rapid transformation of the warranty industry attracted one of the largest private capital raises in 2012, with a $238 million round led by Bain Capital and Bain Capital Ventures. Headquartered in San Francisco and London, SquareTrade is privately held. For more information, go to  www.squaretrade.com.
SquareTrade is a registered trademark of SquareTrade, Inc.  iPhone is a trademark of Apple, Inc.  Other company and product names may be trademarks of their respective owners.