iPhone 6 Earns Best Score Ever, iPhone 6 Plus Not Far Behind
SAN FRANCISCO, CA – September 22, 2014
SquareTrade®, the top-rated protection plan trusted by millions of happy customers, today announced the iPhone 6 and its larger sibling, iPhone 6 Plus, performed impressively in Breakability testing, and each carries the top Breakability Score™ in their respective category. The SquareTrade Breakability Score ranks today's top devices based on how prone they are to break due to accidents. Evaluating key elements such as front and back panel design, edge construction and materials, size, weight, friction quotient, water resistance and grip-ability, SquareTrade's Breakability Score fills in the missing gap left by traditional device reviews: it tests devices in everyday danger situations brought on by our lifestyles and habits.
See SquareTrade's Breakability test video here.
The SquareTrade Breakability Score is based on a number of factors, from physical characteristics to the results of SquareTrade's Drop, Dunk and Slide Tests. The higher a device scores on a scale from 1-10, the higher the risk of it breaking due to an accident.
The new series of iPhones performed above expectations, scoring higher than both previous iPhone models and popular Android phones like the Samsung Galaxy S5. The iPhone 6's Breakability Score of 4 sets a new high mark with a slightly better performance than even Google/Motorola's Moto X and the HTC One. The much larger iPhone 6 Plus scored a 5, more than a full point better than the Samsung Galaxy S5, making it the most durable phone with a screen larger than five inches.
SquareTrade's Breakability Score testing revealed the following:
The iPhone 6 Plus is not only more durable than most large screen phones, but it also outscored last generation's iPhone 5S
Both new iPhones performed very well in most tests, but the iPhone 6 Plus lost some points because some users may have a hard time gripping the phone due to its large but slim form
The screens on both new iPhones held up very well to Breakability testing, giving credence to Apple's promise of ion-strengthened glass.
"Apple has done it again, with a pair of larger phones that are more durable than their smaller predecessors," says Ty Shay, CMO of SquareTrade. "But as we saw with the ill-fated mishap of the first iPhone 6 buyer in Australia, accidents are still going to happen. Americans have spent over $10 Billion on iPhone repair and replacement since their release, and we expect that unfortunate trend to continue."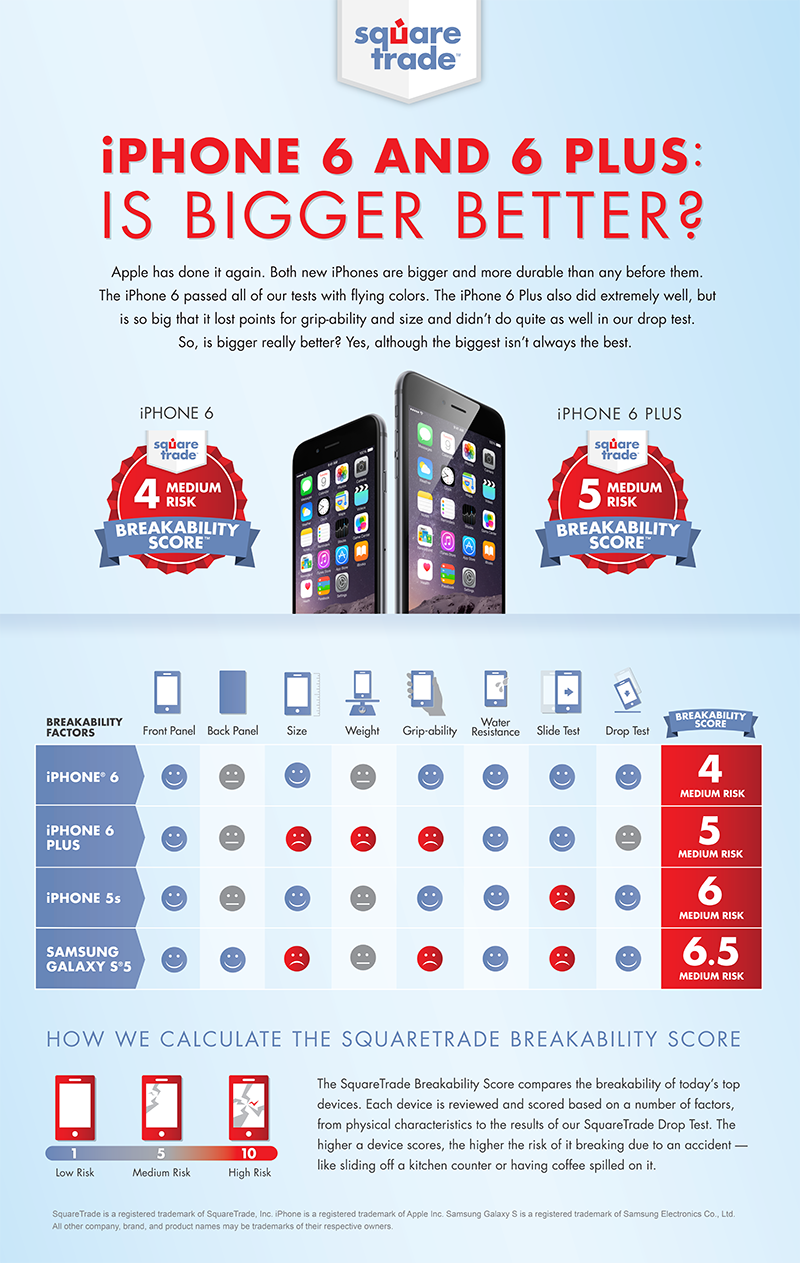 About SquareTrade
SquareTrade is the top-rated protection plan trusted by millions of happy customers for its fast and exceptional service. SquareTrade protects mobile devices, laptops and tablets, and other consumer electronics and appliances from malfunctions, accidental damage and life's frequent mishaps. Unlike old-fashioned warranties, SquareTrade is designed for today's consumer and uses innovative technology to deliver a zero hassle claims process. SquareTrade has more than 200,000 fans on Facebook, consistently wins industry awards and receives thousands of 5-star reviews for its legendary customer service. Top retailers around the world offer SquareTrade, achieving significant sales growth and happier customers. Privately held, SquareTrade's investors include Bain Capital and Bain Capital Ventures. SquareTrade is headquartered in San Francisco and London. For more information, go to www.squaretrade.com.
SquareTrade is a registered trademark of SquareTrade, Inc. iPhone is a registered trademark of Apple, Inc. Samsung Galaxy S is a registered trademark of Samsung Electronics Co., Ltd. All other company, brand and product names may be trademarks of their respective owners.