Moto X Fares Better than the iPhone 5s and 5c in Everyday Danger Situations
SAN FRANCISCO, CA – September 23, 2013
SAN FRANCISCO, CA – September 23, 2013 – SquareTrade®, the top-rated protection plan trusted by millions of happy customers, today announced the Breakability Score™ for the iPhone® 5C and the iPhone 5S – comparing Apple's new phones to their predecessor, the iPhone 5, Google/Motorola's Moto X® and the Samsung Galaxy S®4. SquareTrade's Breakability Score fills in the missing gap left by traditional device reviews: it tests devices in everyday danger situations brought on by our lifestyles and habits.
Based on key elements such as front and back panel design, edge construction, materials, size, weight, friction quotient, water resistance and grip-ability, the SquareTrade Breakability Score ranks today's top devices based on how prone they are to break due to accidents. The higher a device scores on a scale from 1-10, the higher the risk of it breaking.
Comparing Apple's new iPhone 5S, the 5C, the Moto X and the Galaxy S4, the Moto X was the clear winner. SquareTrade's Breakability Score revealed the following:
When it comes to breakability, Apple takes a step back with its latest offerings. The iPhone 5S fared worse than its predecessor, the iPhone 5, in our slide test and the iPhone 5C suffered from increased smash-ability in our drop test as well as reduced grip-ability
The underdog, Google's Moto X, proved the most forgiving of accidents and it's innovative, concave backing set a new bar for the Back Panel score.
The Galaxy S4 once again came in last with poor performance in every test.
"We were expecting that at least one of the new iPhone models would up its game but surprisingly, it was the Moto X that proved most forgiving of accidents," said Ty Shay, CMO at SquareTrade. "This is the first time we've tested the breakability on a Motorola phone, the only phone we've ever tested that's made in the USA. We were pleased to find that it withstood our drop, slide and dunk test with only the slightest dent. It looks like Google is giving Apple and Samsung a run for their money."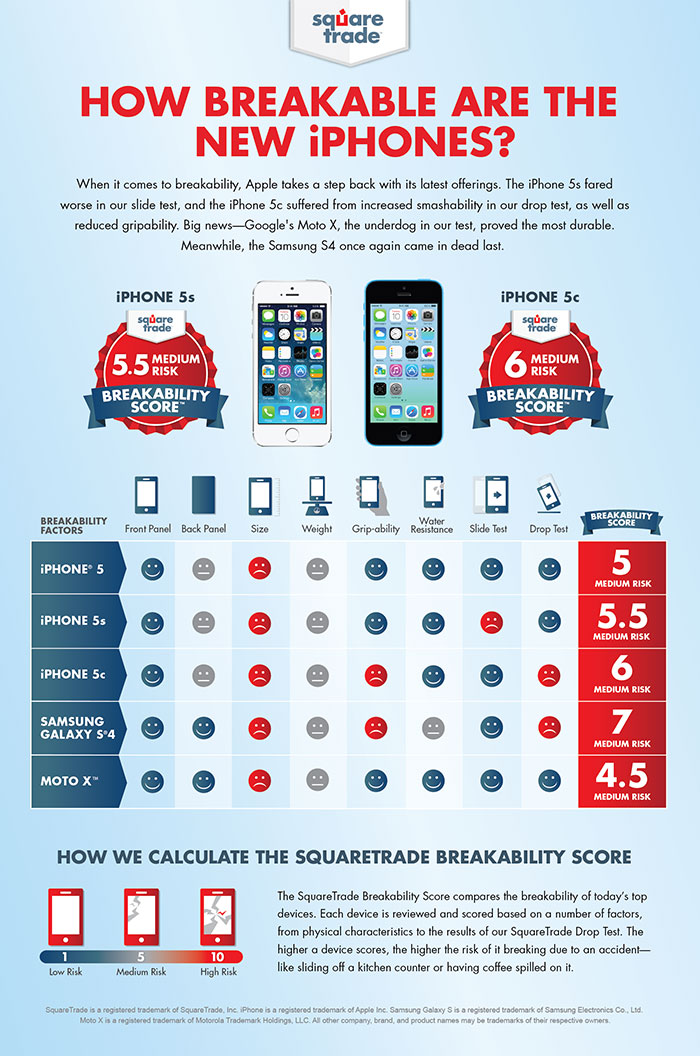 About SquareTrade
SquareTrade is the top-rated protection plan trusted by millions of happy customers for its fast and exceptional service. SquareTrade protects mobile devices, laptops and tablets, and other consumer electronics and appliances from malfunctions, accidental damage and life's frequent mishaps. Unlike old-fashioned warranties, SquareTrade is designed for today's consumer and uses innovative technology to deliver a zero hassle claims process. SquareTrade has more than 200,000 fans on Facebook, consistently wins industry awards and receives thousands of 5-star reviews for its legendary customer service. Top retailers around the world offer SquareTrade, achieving significant sales growth and happier customers. Privately held, SquareTrade's investors include Bain Capital and Bain Capital Ventures. SquareTrade is headquartered in San Francisco and London. For more information, go to www.squaretrade.com.
SquareTrade is a registered trademark of SquareTrade, Inc.