SquareTrade Labs: iPhone 7 Generation Makes a Splash with Water Resistance but Still Falls Hard
SquareTrade's Breakability Score Proves the iPhone 7 to Be Superior in Durability Showdown
SAN FRANCISCO – Monday September 19, 2016 – SquareTrade®, the highly rated protection plan trusted by millions of happy customers, has today released the results of its latest Breakability test. SquareTrade Labs tested the durability and water resistance claims of the new Apple iPhone ® 7 and iPhone 7 Plus against the Samsung Galaxy Note7. The results showed, while water resistance may be the new industry standard, when it comes to broken screens - the leading cause of smartphone damage - neither company has cracked the code.
SquareTrade Labs uses a range of robots to drop, tumble, dunk, and bend devices to see how they live up to the activities of our everyday lives. Watch how the iPhone 7 won this round in SquareTrade's Breakability video here.
SquareTrade's Breakability test results revealed:
Water Resistance is the New Industry Standard, Kind Of: The iPhone 7 generation with an IP67 [1] rating claims water resistance in "up to a depth of 1 meter for up to 30 minutes." While both phones survived SquareTrade's test of this claim, they did suffer some audio muffling afterward. Meanwhile, the Note7 survived Samsung's IP68 [2] claims but also came away with similar audio issues.
No Headphone Jack, No Stronger: Does the lack of a headphone jack make the iPhone body stronger? No. In SquareTrade's bend test the iPhone 7 bent at 170 pounds of pressure, the iPhone 7 Plus at 180 – both matching the previous 6s generation. However, Samsung's Note7 not only bent, but also cracked and was unusable at 180 pounds of pressure.
iPhone Tumbles to Victory: After 30 seconds in SquareTrade's TumbleBot, the iPhone 7 was scuffed on its corners and cracked on the camera lens, similar to the iPhone 6s. The 7 Plus only suffered a small crack, and fared far better than the 6s Plus. The Note7 suffered the most damage with cracks on all four corners and across its glass back.
The Sidewalk Always Wins: All three phones shattered on their first facedown drop. By the second drop, the iPhone 7 bricked and wouldn't turn back on. The third drop for the 7 Plus resulted in major screen malfunctioning rendering it unusable. After three corner drops, the iPhone 7 screen cracked and split along its side, the 7 Plus had a shattered screen, and the Note7 had a shattered back. Most notably for the iPhone 7 and 7 Plus, damage across both drops seemed focused across their lower left bezels.
"The iPhone 7 generation is the first to compete with Samsung's water resistant ratings in its latest smartphones," said Steve Abernethy, executive chairman at SquareTrade. "After putting them to the test, there's no doubt the iPhone 7 and 7 Plus aren't scared of going for a little swim. Still, when it comes to surviving a sidewalk drop, we saw no improvement. Broken screens are still the leading cause of smartphone damage—and both Apple and Samsung still have a lot of work to do."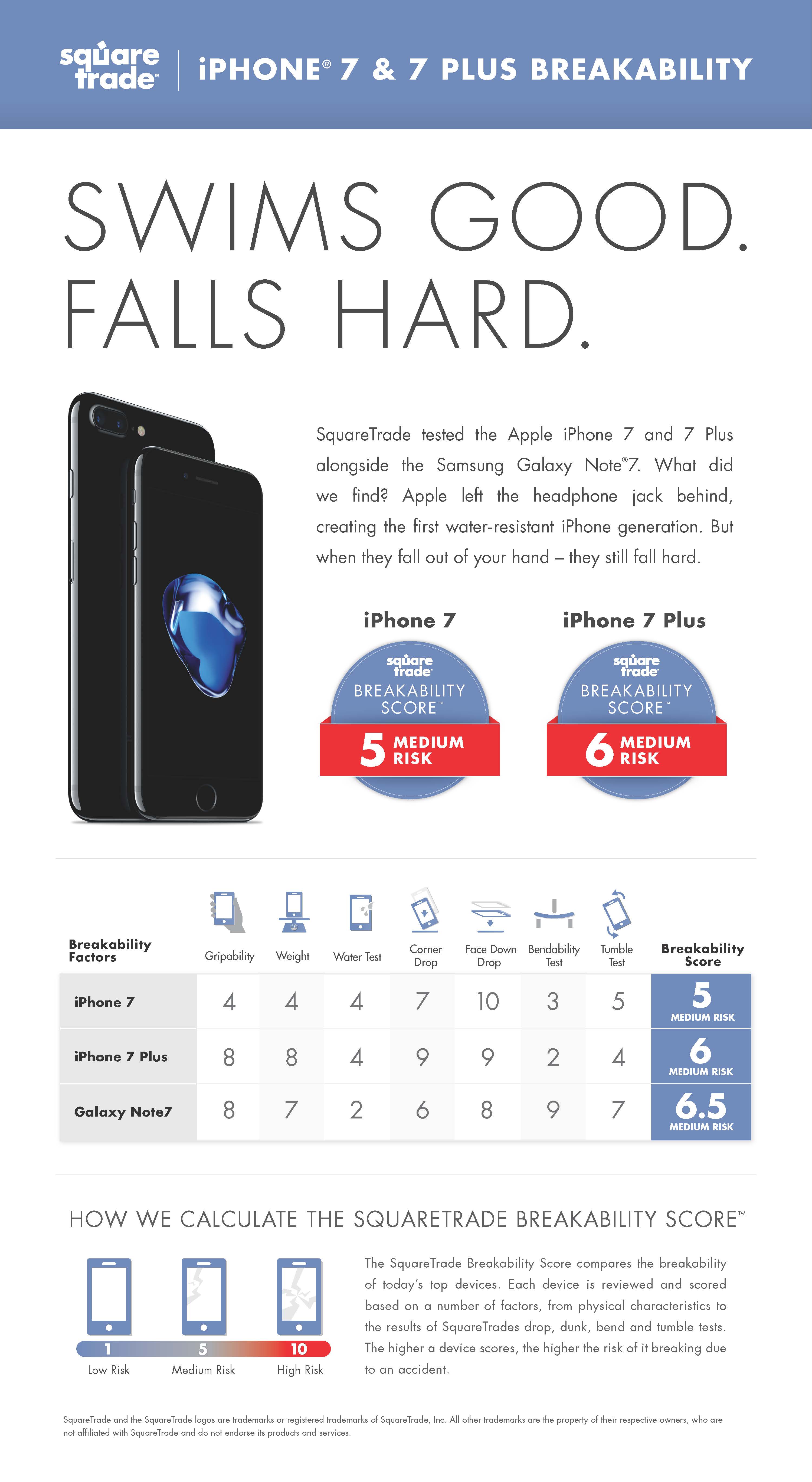 SquareTrade's Breakability Score fills the gap left by traditional reviews. SquareTrade carries out a stringent set of tests on new phones and awards them a rating. This Breakability Score is based on a number of factors: from physical characteristics to the results of SquareTrade's drop, dunk, bend and tumble tests. The higher a device scores on a scale of 1-10, the higher the risk of it breaking due to an accident.
For more information on protection plans for today's most popular smartphones, please visit http://www.squaretrade.com/iphone-warranty.
About SquareTrade
SquareTrade is a highly rated protection plan trusted by millions of happy customers for its fast and exceptional service. SquareTrade protects mobile devices, laptops and tablets, and other consumer electronics and appliances from malfunctions, accidental damage and life's frequent mishaps. Unlike old-fashioned warranties, SquareTrade is designed for today's consumer and uses innovative technology to deliver a zero hassle claims process. SquareTrade has more than 230,000 fans on Facebook, consistently wins industry awards and receives thousands of 5-star reviews for its legendary customer service. Top retailers around the world offer SquareTrade, achieving significant sales growth and happier customers. Privately held, SquareTrade's investors include Bain Capital and Bain Capital Ventures. SquareTrade is headquartered in San Francisco and London. For more information, go to www.squaretrade.com.
SquareTrade and the SquareTrade logos are trademarks or registered trademarks of SquareTrade, Inc. All other trademarks are the property of their respective owners, who are not affiliated with SquareTrade and do not endorse its products and services.