Apple's smallest iPhone beats the super-sized iPhone 6s Plus against SquareTrade's robots
SAN FRANCISCO – April 4, 2016 – SquareTrade®, the highly rated protection plan trusted by millions of happy customers, pitted the Apple iPhone® SE against its arsenal of robots to determine whether "the most powerful phone with a four-inch display" [1] is more durable than its bigger siblings, the iPhone 6s and iPhone 6s Plus. After dropping, dunking, bending and tumbling the phones, SquareTrade found that the iPhone 6s is still the most durable – outperforming the iPhone SE and iPhone 6s Plus in nearly every test. While the iPhone SE may have the insides of the iPhone 6s in a smaller body, it still doesn't have its durability.
See SquareTrade's full Breakability video here.
SquareTrade's Breakability test results revealed:
The iPhone SE is not bendproof: Even with its thicker body, the iPhone SE bent at 160 pounds of pressure. The thinner iPhone 6s didn't bend until 10 pounds later. The iPhone SE reached catastrophic failure at only 178 pounds, which is two pounds less than the amount of pressure needed for the iPhone 6s Plus to bend.
The iPhone 6s outlasts its siblings underwater: Submerged under five feet of water in the Deep Water DunkBot, the iPhone SE permanently shut off in less than a minute. In comparison, the iPhone 6s survived a full 30 minutes and only lost audio. The iPhone 6s Plus started malfunctioning at 10 minutes and eventually died.
Tumbling isn't a big problem for the iPhone SE: The iPhone SE sustained minor scuffs on its corners after 30 seconds within the TumbleBot. Meanwhile, the iPhone 6s Plus suffered a shattered screen and was completely unusable after its turn. The iPhone 6s with its 7000 series aluminum was the only one to survive unscathed.
No iPhone can survive facedown drops: The iPhone SE shattered after its first facedown drop from six feet high, just like the iPhone 6s and iPhone 6s Plus – even with their ion-strengthened glass.
Corner drops are just as dangerous for the iPhone SE: After five drops on its corner, the iPhone SE started cracking across its screen. By the tenth drop, the phone had completely split along its side. Meanwhile, the bigger 6s and 6s Plus only had minor cosmetic damage after 10 drops.
"The iPhone 6s proved that thinner and bigger phones aren't necessarily less durable than more compact phones like the iPhone SE," said Aileen Abaya, director of communications at SquareTrade. "However, it's important to remember that no phone is perfect. No matter the size and weight of a phone, accidental drops—especially on a sidewalk—can still cause its demise."
SquareTrade's Breakability Score fills the gap left by traditional reviews. SquareTrade carries out a stringent set of tests on new phones and awards them a rating. This Breakability Score is based on a number of factors: from physical characteristics to the results of SquareTrade's drop, dunk, bend and tumble tests. The higher a device scores on a scale of 1-10, the higher the risk of it breaking due to an accident.
For more information on protection plans for today's most popular smartphones, please visit http://www.squaretrade.com/iphone-warranty.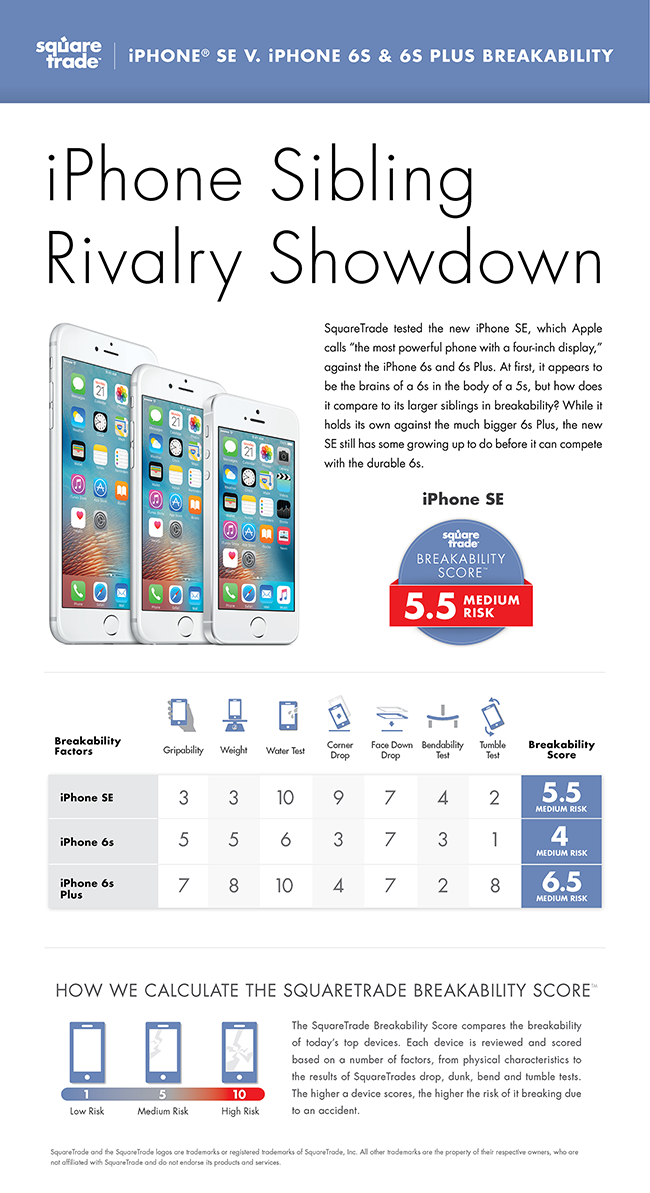 About SquareTrade
SquareTrade is a highly rated protection plan trusted by millions of happy customers for its fast and exceptional service. SquareTrade protects mobile devices, laptops and tablets, and other consumer electronics and appliances from malfunctions, accidental damage and life's frequent mishaps. Unlike old-fashioned warranties, SquareTrade is designed for today's consumer and uses innovative technology to deliver a zero hassle claims process. SquareTrade has more than 230,000 fans on Facebook, consistently wins industry awards and receives thousands of 5-star reviews for its legendary customer service. Top retailers around the world offer SquareTrade, achieving significant sales growth and happier customers. Privately held, SquareTrade's investors include Bain Capital and Bain Capital Ventures. SquareTrade is headquartered in San Francisco and London. For more information, go to www.squaretrade.com.
SquareTrade and the SquareTrade logos are trademarks or registered trademarks of SquareTrade, Inc. All other trademarks are the property of their respective owners, who are not affiliated with SquareTrade and do not endorse its products and services.
---
[1] http://www.apple.com/pr/library/2016/03/21Apple-Introduces-iPhone-SE-The-Most-Powerful-Phone-with-a-Four-inch-Display.html