Despite Durability Weakness, 36% of Current Samsung® Owners Plan to Purchase Galaxy S8 in the Next Six Months
SAN FRANCISCO – Monday April 24, 2017 In the wake of exploding batteries and defective washing machines, Samsung is facing a big test of loyalty for the launch of the Galaxy S8—with durability taking center stage. Mixed results have been highlighted by SquareTrade®, the highly rated protection plan company trusted by millions of happy customers, as the Galaxy S8 and S8+ have performed significantly worse than their predecessors, the S7 and S7 Edge, in the company's latest Breakability test. On the plus side, a SquareTrade survey found, smartphone owners reported being twice as likely to buy the newest Samsung models as they are an iPhone® in the next six months.
SquareTrade Labs uses a range of scientific robots to drop, slide, tumble, and dunk devices to see how they live up to the activities of our everyday lives. This year, the score will expand to a rating out of 100 with new weightings based on SquareTrade claims data and a new "Repairability Factor," exploring the ease of repair as judged by SquareTrade's in-house tech experts.
To check out the shattering results of SquareTrade's test, view the full Breakability video here.
SquareTrade's Breakability tests results revealed:
Face Down Drop Test: The biggest enemy of glass screens continues to be sidewalks, with cracks on both devices appearing after just one face-down drop, along with small chunks of glass missing from the corners of the S8.
Side and Back Drop Tests: With all glass bodies, the S8 models were especially susceptible to the back-down drop, which caused cracks on their fronts as well. The S8 suffered the most damage during the side drop, losing the glass from its lower left corner, making access to software buttons a little dangerous.
Dunk Test: With an industry-leading IP68 rating, both phones did well in five feet of water for 30 minutes. There was some audio muffling and distortion following submersion, but after 30 minutes out of the water audio on both was almost completely restored.
Repairability: With strong adhesive attaching front and back glass panels, and the battery being difficult to reach, a repair on either the S8 or S8+ is difficult. Fortunately, once opened up replacing other components looks relatively easy.
"Samsung has had a tough year, making global headlines with major product defects and other scandals, so they had to knock it out of the park with the Galaxy S8," said Jason Siciliano, vice president global creative director at SquareTrade.
"While the nearly all-glass design of the S8 makes it a beautiful phone, it's extremely susceptible to cracking when dropped from any angle. However, we have no doubt it's going to be a hit. We found that 89% of Samsung owners reported having a positive view of the brand despite recent controversies, and 36% plan on buying an S8 in the next six months," Siciliano continued. "Just don't drop it."
SquareTrade's Breakability Score™ fills the gap left by traditional reviews. The Score is based on a number of factors: from physical characteristics and components to the results of SquareTrade's drop, dunk, bend, and tumble tests. The higher a device scores on 100-point scale, the higher the risk of it breaking due to an accident.
For more information on protection plans for today's most popular smartphones, please visit www.squaretrade.com/smartphone-warranty.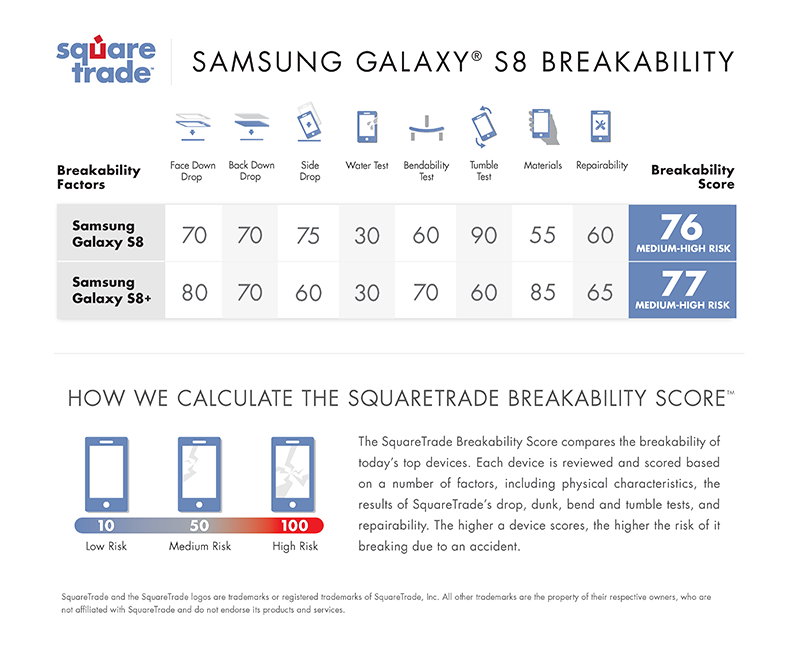 About SquareTrade
SquareTrade is a highly rated protection plan provider trusted by millions of customers for its fast and efficient service. SquareTrade protects mobile devices, laptops and tablets, and other consumer electronics and appliances from malfunctions, accidental damage and life's frequent mishaps. A member of the Allstate family, SquareTrade is headquartered in San Francisco and London. For more information, go to www.squaretrade.com
Methodology
Data Sources:
SquareTrade's 2017 Samsung Survey conducted in April 2017 using Qualtrics Panels, an aggregator of leading market research panels. Feedback was collected from 1,051 smartphone owners.