Latest iPhone® Generation Squares Up Against the Samsung Galaxy® Note8 and SquareTrade Labs' Arsenal of Bots, Including the New Shot Bot
SAN FRANCISCO – September 25, 2017 – After months of anticipation and leaks, Apple's latest iPhone generation, the 8 and 8 Plus, has arrived featuring a new all-glass design. After finding the Samsung S8 the most fragile phone due to its all glass design, SquareTrade®, the highly rated protection plan trusted by millions of happy customers, has once again shown the limits of the new glass standard with shattering results for the iPhone 8 and 8 Plus. Pitting the new iPhone 8 and 8 Plus directly against Samsung's latest Note8, SquareTrade Labs found glass backs welcome more problems than they solve.
SquareTrade Labs uses a range of scientific robots to see how the latest phones live up to the activities of our everyday lives. Earlier this year, SquareTrade added a new Repairability Factor, which explores the ease of a device's repair as judged by SquareTrade's in-house tech experts. Always looking to improve their test results, SquareTrade has added a new "Shot Bot" to simulate the all too common occurrence of forgetting a phone on the top of a car while driving away.
To check out the shattering results of SquareTrade's test, view the full Breakability video here.
SquareTrade's Breakability tests results revealed:
Face Down Drop Test: The Note8 may have only suffered hairline cracks across the front with starburst cracks along the top right corner but it was the only device rendered completely inoperable. Meanwhile, both the iPhone 8 and 8 Plus shattered across their entire front, rendering them nearly unusable.
Side and Back Drop Tests: Apple's "aerospace-grade band" helped save the iPhone 8 and 8 Plus from disaster during the side drop. Unfortunately for Samsung, the Note8's edge-to- edge screen left it susceptible to significant damage across its back that could easily lead to a broken camera. The back drop test was a different story altogether with both larger models, the iPhone 8 Plus and Note8, shattering across their backs and losing chunks of glass in the process. The iPhone 8 was the back drop winner even while losing a chunk of glass from the corner.
Dunk Test: Both the Apple and Samsung devices lived up to their IP ratings… for the most part. While the audio is significantly louder in this new iPhone generation, after being submerged for 30 minutes there was significant muffling and distortion. Even though the Note8 also survived the test, it experienced similar audio issues.
Shot Test: SquareTrade's newest test, meant to simulate a phone flying off the roof of a car, further showed the dangers of leaving your device unprotected. Significant damage for all phones occurred on the first shot, however, the Note8 had the most significant damage with multiple pieces of glass coming off the screen.
Repairability: Even though a cracked screen on the new iPhone 8 and 8 Plus could be easily repaired, its new glass back presents a whole new world of complications, making it more difficult and more expensive to repair than previous generations. Nevertheless, the Note8 with its multiple, fragile inner cables, is just a tedious phone to repair all around.
"Like the Galaxy S8 and Note8, our tests show that the all-glass iPhone 8 and 8 Plus break on the first drop on all sides. Wireless charging is the future, no doubt. But it seems that Apple and Samsung have made a choice—to sacrifice durability in the name of innovation." said Jason Siciliano, vice president global creative director at SquareTrade. "The iPhone 8 is an amazing device and should be quite popular. In our recent Decade of Damage Study, we found that 44 percent of current iPhone owners plan to upgrade to a new model this fall. If you're one of them, congrats—but hold on tight."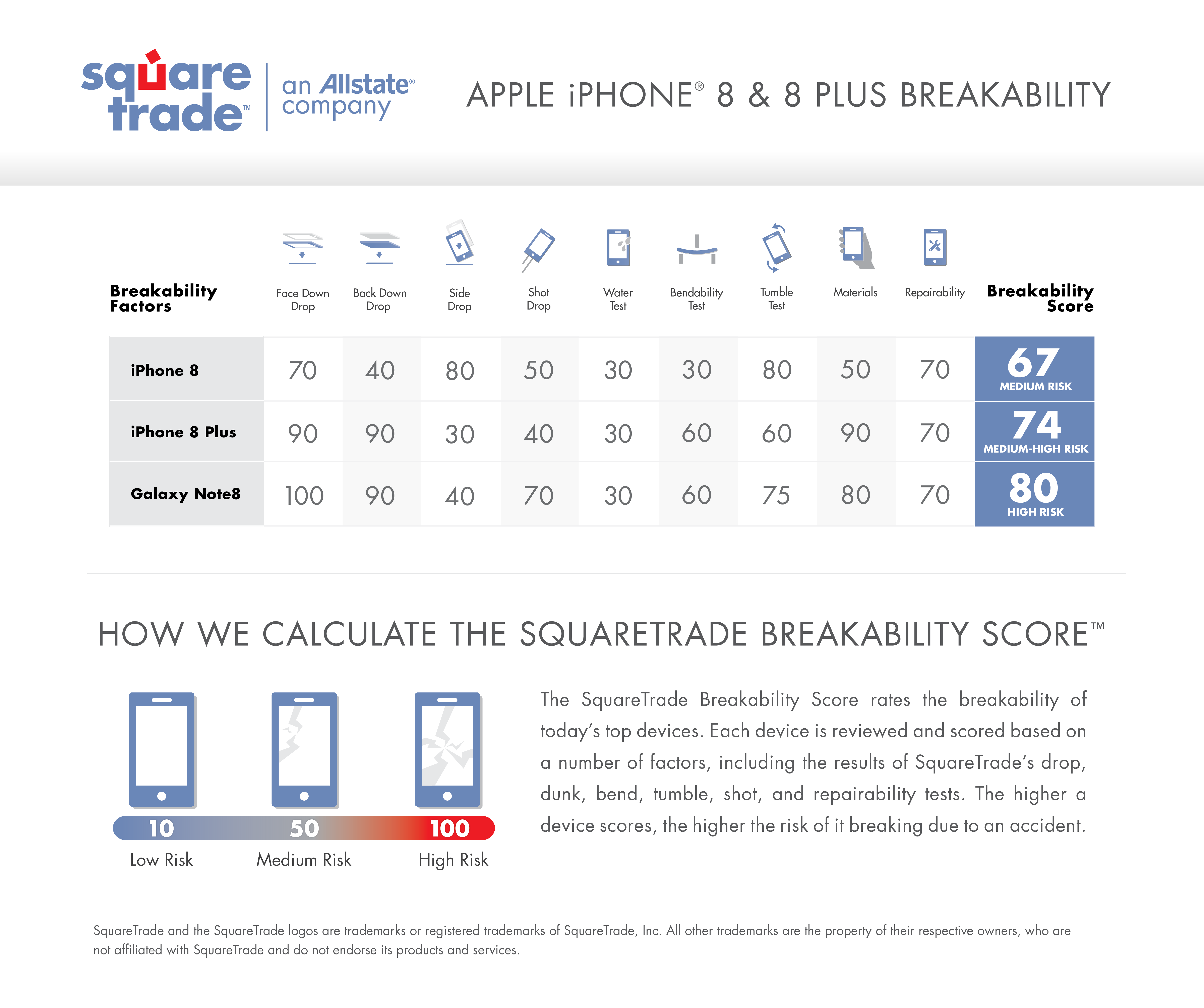 SquareTrade's Breakability Score fills the gap left by traditional reviews. The Score is based on a number of factors including, repairability, physical characteristics and components, to the results of SquareTrade's drop, dunk, bend, tumble, and shot tests. The higher a device scores on SquareTrade's 100-point scale, the higher the risk of it breaking due to an accident.
To guard against the worst, SquareTrade always advises people to use screen protectors and phone cases, and of course, get covered by a protection plan.
For more information on protection plans for today's most popular smartphones, please visit www.squaretrade.com/iphone-warranty.
About SquareTrade
SquareTrade is a highly rated protection plan provider trusted by millions of customers for its fast and efficient service. SquareTrade protects mobile devices, laptops and tablets, and other consumer electronics and appliances from malfunctions, accidental damage and life's frequent mishaps. A member of the Allstate family, SquareTrade is headquartered in San Francisco and London. For more information, go to www.squaretrade.com