Freezing Temperatures Poised to Cause Super Bowl Havoc On-and-Off The Field With 1 in 5 Americans Reporting Devices Disasters Due to the Cold
SquareTrade Outlines 5 Tips for a Fumble- Free Game
January 30, 2014 - As America prepares for Super Bowl XLVIII, new research from SquareTrade®, the #1-rated protection plan trusted by millions of happy customers, reveals 23 million Americans have damaged their cell phone or tablet while caught up in the passion of a sporting event.  With plunging temperatures predicted for this year's Super Bowl, fans face a further peril with the study also showing 45 million Americans (1 in 5) people have had a phone malfunction or die due to cold weather, snow and ice. SquareTrade is urging all fans to take extra care with their devices to avoid some of the most common spectator mishaps.
According to the study, Seahawks fans are most at risk for a fumble, showing to be 46% clumsier than Broncos fans.  24% of Seahawks fans have had a cell phone accident in the past 12 months compared to just 16% for those rooting for the Broncos.
The top 5 sporting spectator gadget accidents revealed by the SquareTrade survey are: 
The standard drop: device dropped from hand – 33%
Liquid drops, the most common of which are toilet drops, sweat and water spills – 18%
Beer drops - devices dropped in beer –13% - it's more common than you would think!
Passion drops: devices thrown in anger or excitement - 12% 
Bar drop: devices falling from a bar or table - 8%
"Our devices have become our must-have companion during sports events – from tweets and texts, to photographing those moments of victory and defeat. We think the more passionate the sports fan, the more likely an accident is to happen in the heat of the game," commented Ty Shay, SquareTrade's Chief Marketing Officer. "And since extreme weather does not play nicely with electronics and cold hands are even more susceptible to phone fumbles, we are urging everyone (at least off the field) to play it safe."
To boost fans' device defense, SquareTrade offers the following tips for an accident free Super Bowl:
Keep your phone at hand but not in hand – like the precious TV remote, find a place that is close to the couch and easy to find
Count to ten after all suspect calls or player mistakes
Never use or take out your device in the bathroom
Protect your phone and promote your team with their official phone cover or create your own through LikeMyCase
If cold weather calls are a must, try Glove Phone – Bluetooth enabled mitts  
SquareTrade works with the world's top online and in-store retailers to offer uniquely customer-friendly technology protection plans to protect thousands of consumer electronics and appliances including smartphones, tablets, laptops, televisions, video game consoles and digital cameras. SquareTrade consistently receives high rankings for superior customer service and its 5-day service guarantee.
Methodology and Data Sources
SquareTrade's 2014 Superbowl Surveys, conducted in January 2014 using Google Consumer Surveys. Feedback was collected from a total of 5,774 online consumers.
SquareTrade's 2013 Sports Accidents Surveys were conducted in January 2013. These surveys collected 1,500 responses from American consumers using Survey Sampling International and from 3,249 online consumers using Google Consumer Surveys. Demographic quotas were used to ensure a representative sample.
All number of Americans and total dollars spent figures based on a combination of these surveys and the US Census Bureau's 2012 and 2013 population estimates.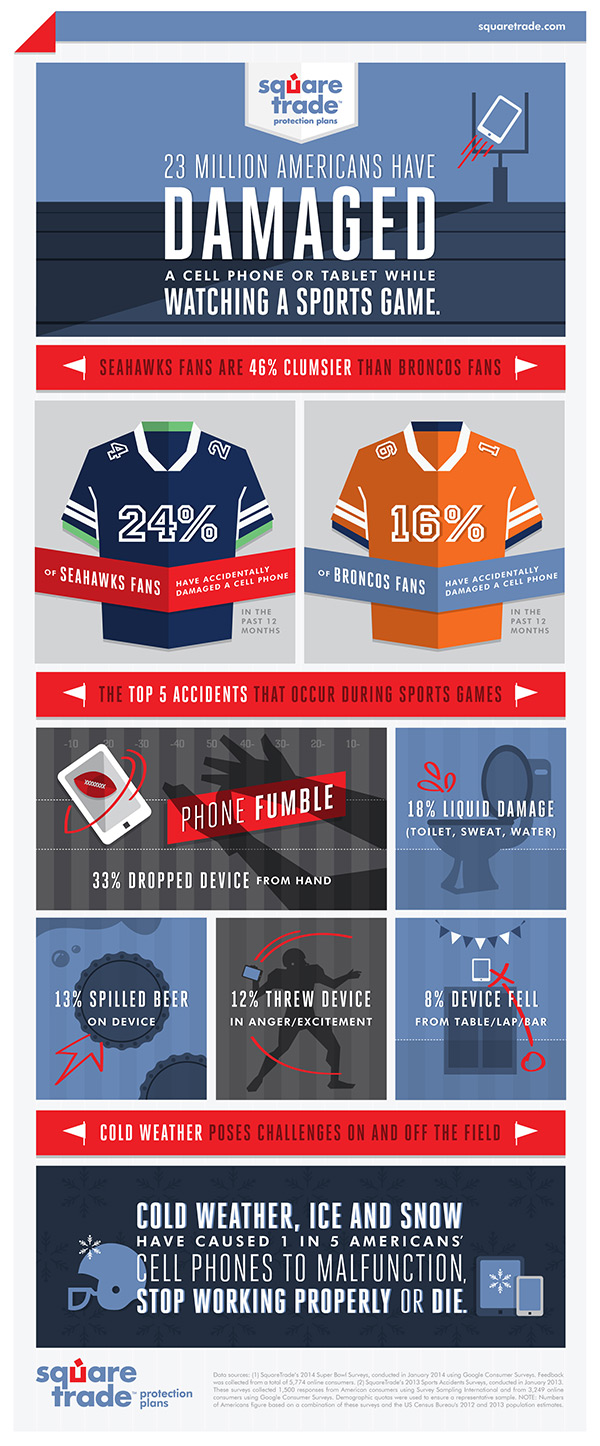 About SquareTrade
SquareTrade is the top-rated protection plan trusted by millions of happy customers for its fast and exceptional service. SquareTrade protects mobile devices, laptops and tablets, and other consumer electronics and appliances from malfunctions, accidental damage and life's frequent mishaps. Unlike old-fashioned warranties, SquareTrade is designed for today's consumer and uses innovative technology to deliver a zero hassle claims process. SquareTrade has more than 200,000 fans on Facebook, consistently wins industry awards and receives thousands of 5-star reviews for its legendary customer service. Top retailers around the world offer SquareTrade, achieving significant sales growth and happier customers. Privately held, SquareTrade's investors include Bain Capital and Bain Capital Ventures. SquareTrade is headquartered in San Francisco and London. For more information, go to www.squaretrade.com
SQUARETRADE and the SquareTrade logos are trademarks or registered trademarks of SquareTrade, Inc.
All other trademarks are the property of their respective owners, who are not affiliated with SquareTrade and do not endorse its products and services.